5 Ways FinTech Can Transform the Hospitality Industry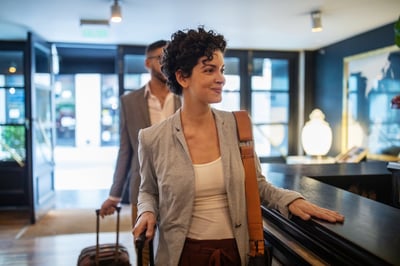 As the global hospitality sector begins to reopen, we find ourselves in a significantly different industry and world. The impacts of the COVID-19 pandemic have drastically changed consumer behavior and heightened the need to further focus on attracting and retaining guests and associates.
Understanding and appropriately reacting to these changing behaviors is essential to successfully recovering and rebuilding. Reimagining the customer and employee experience, along with re-engaging with them to build their loyalty while continuing to effectively manage costs, is paramount.
1. Enhance the Guest Experience
In recent years, competition for guest retention and brand loyalty has only gotten fiercer. Enhancing the guest experience is a major piece of the puzzle when it comes to customer loyalty. First and foremost is that brand recognition and company messaging must be succinct and tailored to your guests' needs — all while being flexible and allowing for changes to offerings based on guest feedback and preferences.
In today's digital universe, speed is vital and people's time is important. Having the ability to remediate customer issues in the moment is key to setting yourself apart. Not everyone, and especially not the business traveler, wants a free night or free breakfast when there has been a customer service issue. Although most travelers do appreciate those gestures, they are often seen as low-value offers.
So, what if you could offer something better? Another option to consider is giving them a monetary thank you delivered by text to whatever payment method they choose. The instant reward would create a memorable guest experience.
2. Attract and Retain Associates
Team members are the lifeblood of a company. Having satisfied employees leads to far better customer service and guest experiences. A top stressor for hourly wage earners can be their finances. Waiting two weeks or more in between paychecks can cause tremendous financial worry. By allowing your employees instant access to wages earned, you can reduce these stressors and have a much more engaged workforce.
Whether it's instant access to tips earned, paying your 1099/contract workers in real time, or allowing employees access to their wages earned at the end of each shift, supporting your team members with instant access to monies earned will lead to a healthier, happier, and more engaged workforce, and to a great overall guest experience.
3. Improve Customer Loyalty
We all know that it costs a lot more to gain new customers than to retain current ones. Customer loyalty/retention is very important, especially in the hospitality space. Consumers have many choices for lodging, so you need to strategize how best to drive customer loyalty and retention. This can be done in a multitude of ways. One way is making loyalty points easily convertible. Consumers are more likely to choose to stay at properties that make it easier to access and use their points. As an added benefit, by allowing easy conversion of points to cash, your company can better manage the liability of a large number of unused points on the books.
Using a flexible incentive program that can shape how, when, and where customers spend is of huge benefit. By keeping messaging centered around your brand while allowing your customers more choice in their rewards, you can develop highly targeted incentive campaigns based on your customers' wants and needs. These can deliver unique customer experiences, leading to higher consumer loyalty and retention.
4. Reduce Operational Costs
There are many operational costs that we pay every day. Unless you are in the finance department, they go largely unnoticed, but they can have a major impact on the bottom line. Legacy payment methods are not only a bad experience for customers, but they are also full of extra costs and fees. For example, the average cost for a company just to write a single check is $8. Moving to a digital disbursement solution in your back office can save your company an incredible amount of time and money. No longer would there be a need to run to the bank or deal with the security issues of having large amounts of petty cash on hand. No more wondering why a check has not been cashed yet or if it has made it to the recipient.
A good software solution can track more data points and allow for a smoother, more accurate reconciliation process. Having control over how payments are made is also a big deal. Controlling how, when, to whom, and why a payment is made leads to less fraud, less shrink, and an even more secure payment flow.
5. Expand Capital Management Tools and Resources
Moving to a digital payments platform allows for greater management of your company's capital and resources. Having real-time tracking and visibility into the life cycle of a payment allows you to know where your capital is at all times. Having the ability to choose who you pay and when allows you to dynamically manage your capital — sending payments when it makes the most sense for the business.
A platform with a powerful rules engine, one that allows you to set directives for the flow of money, lays the foundation for a much more robust internal control framework. Putting that framework in place allows for recurring payments and more automation. With the ability to automate processes, team members are now freed up to focus their time on more mission-critical tasks such as enriching the guest experience.
Today's consumer is very savvy and with endless options for loyalty programs. Creating a customer experience that speaks to them is of the utmost importance. Using a modern platform solution that allows for choice and flexibility can be the difference-maker. Since most hospitality companies are slow to adopt new technology and embrace the changing digital landscape, this leaves the potential for gain in market share and increased brand loyalty to the companies that are more forward-facing and early adopters of new tech.
Ready to Learn More?